"Schools for Sudan", Youth Leadership Grants Group Project
Matt Bouvier, Katie Gorman, Kara Knights, Rebekah Lizotte, Erika Rothberg, Ian Whalen
2010-2011 Group Grant Recipient,
Hudson High School
"Schools for Sudan"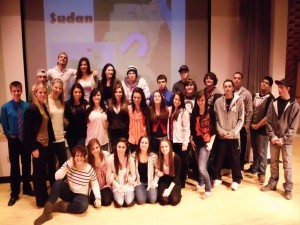 Matt Bouvier has been a student of the arts since grade school. Matt began singing in the 9th grade and has not stopped since. He recently performed in the Massachusetts Districts Choir, and then proceeded to the Massachusetts All-State Choir. Matt has also been playing the saxophone since the 4th grade. As well as being diversified in the arts, Matt is also enthusiastic about the world cultures and how those cultures are influenced by the arts.
Katie Gorman is a senior and has been a varsity cheerleader for 4 years. Her future plans are going to Nichols College and studying either psychology or communications. She will also be cheering at Nichols. Katie has been working at Honey Dew Donuts for over two years. She loves to watch the Bruins and hockey is her favorite sport. Emmanuel Jal is such an inspiration to her because of how he survived a life of hardfships and uses his life as inspiration for his music and making a difference in the world.
Kara Knights has been a student in the Hudson School District for ten years. She is the youngest child in a family of five, with two older brothers. Kara practices her passion for government as class president from eighth grade, to her current grade of sophomore. A highly motivated and focused student, Kara plans to attend college to study political science. A citizen of Hudson, MA for her entire life, Kara has participated in many of the town's recreational sports. These sports include softball, basketball, and soccer. She was a member of the 2010 Division II MA State Softball Championship Team.
Rebekah Lizotte is a senior and is active in her school's performing arts programs including singing in the a capella group and participating in the drama productions. She has a passion for photography and a recent interest in painting. Rebekah plans on attending Lesley University and pursuing a degree in English or communications. This is her second year participating in the FFC program, and could not be happier to see others reaching out into their communities to make a positive difference.
Erika Rothberg is a senior and has been a varsity cheerleader for four years. She is currently captain. Her future plans include attending Nichols College and studying communications. She will also be cheering at Nichols. Erika has been working at Honey Dew Donuts for almost two years and also has a second job at Curious Kids Preschool. She loves the Bruins because hockey is her favorite sport. This experience with Emmanuel Jal has changed her life. She sees him as a role model for doing what he does, after everything he's been through. His courage has really made a difference and Erika believes that she can too.
Ian Whalen was born in Massachusetts to a very loving family. As he grew they taught him how to live and love. His main goal in life is to help everyone he meets, in one way or another. He plans on going to UMASS Amherst to study psychology and Middle Eastern studies. He loves traveling and one day hopes to explore every continent, except Antarctica, because it is too cold. Ian would like to thank his loving family, parents especially, his friends, and his World Cultures teacher, June Murray. "Neither fire nor wind, birth nor death can erase our good deeds."
Essay and Project Summary
After studying about the Sudan in their World Cultures Latin America/Africa (WCLAA) class, students were motivated to take action.  They were inspired by the role education played in the lives of Sudanese refugees and in particular the life of Emmanuel Jal.  Energized by the lyrics of Jal's music, students organized a "pay per view" assembly and raised over $1400 for his organization, Gua Africa. The funds will be used to build schools in southern Sudan.
As a result of their work, Mr. Jal contacted the students.  During their conversation he said he would like to come visit our school.  Emmanuel Jal, former child soldier, activist and musician, spoke and performed for 780 members of the Hudson High School community at an event hosted by World Cultures students.  To date Schools for Sudan has sponsored a fundraising night at a local restaurant, maintained "Jars for Jal", an initiative to collect spare change developed in partnership with the school cafeteria, been featured on local radio and in the Metrowest Daily. The initial $1400 total has grown to$4700.
This does not mark the end of their efforts.  WCLAA students are organizing district wide programming to educate all children in Hudson about the history of the Sudan and the importance of education.  This initiative has been student designed and organized from the start, it embodies the idea that education can be transformative and its impact can be felt across cultural and geographic boundaries.
Download a PowerPoint about the class's grant project