Minahil Choudry, Youth Leadership Grant Recipient
Minahil Choudry, 2010-2011 Grant Recipient
Glenelg Country School
"Opening Doors with Open Minds"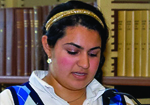 I am a 16 year old student at Glenelg Country School. I was born in the United States, yet moved to Lahore, Pakistan when I was in 2nd grade till 8th grade.  Living abroad in a third world country, I went to an international school, which allowed me to experience a different culture. I also witnessed poverty, seeing that Pakistan is a developing country, and not many people can achieve a higher education. I was deeply influenced by my grandmother, Durdana Shahzad since she runs a tuition free school for children right outside of Lahore. Getting to know the school has most definitely transformed me into the person I am today.
Essay and Project Summary
"Opening Doors with Open Minds" will center its efforts on the school, Isfundiyar Model School, which gives the children a chance to grow, learn and develop using education, manners and skills to provide a brighter future.  Not only is this education free yet it is more than just an education. It is an experience that teaches the unfortunate village children outside of Lahore how to take care of themselves and how to treat others. Through fundraising, the project will improve the infrastructure of the school to include a generator and ceiling fans. Additionally the project hopes to fund the purchase of additional books and sporting equipment.
Reflection
"Welcoming a stranger means to help someone regardless of what your needs are; being the bigger person and putting others before you."