Lital Firestone, Youth Leadership Grant Recipient
Lital Firestone, 2010-2011 Grant Recipient
Walter Johnson High School
"Teens Unite for Troops"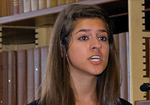 Lital Firestone is a 16-year-old sophomore at Walter Johnson High School. After participating in the Humanities and Communications Magnet Program at Eastern Middle School, she moved to be a part of the APEX Scholars Program at WJHS. In middle school Lital and two peers competed at National History Day, and were National finalists with their play on McCarthyism. Lital has participated in a performing ensemble for five years, and performs in various musical theater shows. She is also a member of WJ's mock trial team, which competed at finals for the first time this year.
Essay and Project Summary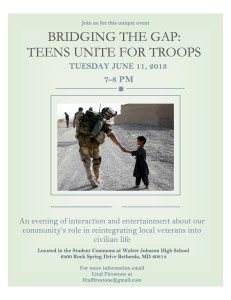 The goal of Teens Unite for Troops is to reconnect soldiers who have returned from the warfront with modern society. The best way to do this is by initiating a way that their peers, teenagers, can work with and speak with soldiers to help welcome and reacquaint them with civilian society once they have returned home. At the same time, the civilian teens will learn to appreciate the sacrifices made by servicemen and their own roles in showing this appreciation.I will re-install a club at my school called Students Helping Soldiers to gather teenagers who are interested in working with the Red Cross Hospital in order to connect with young Iraq/Afghanistan veterans through the arts.
Reflection
"Welcoming each other into our homes and lives taught us the many ways that humans, who can be so similar, can live their lives in many different ways."