Kikanae Punyua, Youth Leadership Grant Recipient
Kikanae Punyua, 2010-2011 Grant and 2011-2012 Matching Grant Recipient
Glenelg Country School (graduated 2011)
Kikanae graduated from the University of Maryland. A member of the Maasai clan in Kenya, he returned home after graduation to continue working on the Osiligi (Hope) Foundation that he established with the grants he had received from FFC and his additional fundraising efforts.
Project Update, September 2016
Kikanae was successful in convincing his father to advocate against the traditional practice of female genital mutilation. Kikanae and his teacher and mentor, David Weeks, then spoke to the community in a church service, to the primary school community, and to the clan elders in August of 2016. By December, when the ritual was to take place, this practice was terminated for Kikanae's Maasai clan.
After speaking with the women of the clan, Kikanae learned of their interest in establishing a local medical clinic to support them in childbirth and began fundraising for the project. In the summer of 2016, construction of the clinic was completed, and in the fall, water would be piped into the facility as well as wiring for electricity.
To make this medical clinic operational, Kikanae and the elders of his community drafted an MOU with the local health department officials in the nearby town of Narok. The Narok Health Department will manage the staffing and operation of the health facility, while being overseen by a local committee of Punyua representatives. This clinic will be staffed with medical personnel primarily from the Punyua community, and it will practice both traditional medical remedies and western medical practices.
The next project for the Osiligi Foundation will be the development of a medical lab building to study medicinal plants from the local forest and to develop traditional remedies for local medical use, as well as for distribution to other communities.
In addition, plans are also being developed for the establishment of a cultural center to showcase the performing and visual arts of this local Maasai culture.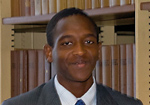 I am a senior at Glenelg Country School and originally from Kenya.  I came to America two years ago as an exchange student through American Field Service (AFS) an organization that promotes cultural exchange among youth all over the world, Muslims, Jewish, Hindus and Christians. The AFS experience changed my whole life of how I view people from different cultures and religions. It opened my eyes to see that we are all created by the same creator and we should work together to make the Earth a better place for all.  I am also a member of the Maasai tribe with a family of ten siblings, seven brother and three sisters. In the Maasai community women are discriminated against and my hope is that my three young sisters will have a chance to complete school and help others in need.
Project Summary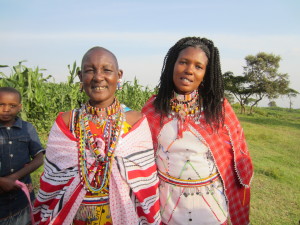 Women and girls have endured much hardship in traditional Masaai culture. Beyond the struggle to give birth in unsanitary conditions, hiking daily with jugs to retrieve fresh water, working fields for vegetables, milking goats and cows  and preparing meals over fires in poorly ventilated rooms, young women at a particular age have had to endure the painful procedure of "female circumcision." This cutting of the clitoris has not only inflicted lasting physical pain but has also left emotional scars that have had a negative impact on self-esteem.
As a male teenager I felt deeply for the difficult lifestyle experienced by young women in my tribe. I was fortunate to have been chosen as one of two male students from my high school in Narok, Kenya to travel on an American Field Service (AFS) scholarship to study in a U.S. high school in Maryland. I spent my junior year at Wilde Lake High School and then transferred to the Glenelg Country School in my senior year. With my accomplishments as a competitive runner and as a very capable student, I was given a full scholarship by the University of Maryland. Prior to leaving Glenelg Country School I took a course in Leadership and Public Policy taught by Mr. David Weeks, the GCS Global Outreach and Service Director. In this course I was challenged to research a significant topic which could be impacted by public policy. I reflected on the painful procedure of "female circumcision" endured by women in my tribe and I wanted to do what I could to end this annual ritual and empower the Maasai women with an improved lifestyle and more advanced education.
Knowing the power of Maasai tradition in each clan, I realized that it would be very difficult to legislate the eradication of "female circumcision." To affect change, however, I decided to educate my father, a prominent elder of the Punyua clan, to the negative impact of the painful procedure and save Tutayo and Esther, my two younger sisters, from having to endure "female circumcision." My father claimed that it would be difficult to change this long standing tradition in our clan. I then challenged my father to have the courage to break tradition within his own family and spare his younger daughters of the painful procedure. My father finally agreed and his example inspired other prominent men and women in my clan to embrace this progressive position on "female circumcision."
Encouraged by the response of my father and the support of other members of my clan, I worked with Mr. Weeks to obtain funding  from the Washington D.C. based Fund for the Future of Our Children to establish a library of materials to advance the education of women in my tribe.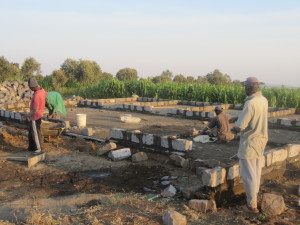 In the summer of 2012 I returned to my home in Kenya. I invited David Weeks to visit with my family. As my teacher and mentor, I knew he would help to educate the community to the importance of women's empowerment and the negative impact of "female circumcision." During his stay Mr. Weeks joined me in speaking to a congregation at the local church and to a large community gathering at the Punyua Primary (grades K-8) School. In addition to reinforcing the importance of banning "female circumcision" we spoke about a vision to construct a health care facility for a midwife to assist women in labor and delivery and to establish a library of materials to advance the education of girls and women. I also envisioned a cultural arts center which would preserve the history of my people and serve as a community meeting house where traditional songs and dances could be performed and crafts could be sold to visitors. This cultural arts center would not only preserve the proud heritage of the Maasai but would also improve the quality of life for the approximately 2000 Maasai people in my clan as they and the cultural center would benefit from the income generated from visiting tourists interested in experiencing and learning about Maasai culture near my family clan's Ntulele Village Center which is near the road between Nairobi and the Maasai Mara Wildlife Park.
My vision to end "female circumcision" became a reality when the traditional ritual was not practiced by my family clan in December 2012. The empowerment of Maasai women has improved with better ventilation in cooking houses and the coming of a water supply system to improve access to fresh water. More girls are also boarding at the Punyua Primary (grades K-8) School preparing them to realize their dreams of pursuing professional fields of interest.
Plans have been drawn for the development of a complex of buildings that would support my vision. Funds raised in the 2012-13 academic year have enabled the partial construction of the first building which would provide a midwife facility for labor and delivery and dormitory space for girls. An additional $,2500 USD is needed to place a roof on this building and approximately $4,000 will complete its interior construction. Hopefully by the end of the summer of 2013 this facility will be operational. A former corn field has been cleared to prepare space for the additional buildings in this complex.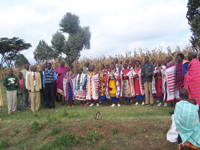 With the forests, rich agricultural land, fields for grazing goats, sheep, cows and donkeys, and the recent discovery of geothermal energy, the Maasai have valuable resources in the Rift Valley in Narok District of Kenya which could be attractive to foreign interests. To be prepared for the challenges to the quality of Maasai life in the future as others might compete for its resources, it is essential for my people to guide their own destiny with respect for their heritage and interest in advanced education.
When an idea becomes destined to be realized, it becomes attractive to those who have the capacity to see its potential. My vision of the Osiligi (meaning hope in Maasai) Foundation will continue to be realized with the support from donors who believe in the societal value of empowerment for both boys and girls and want to maintain the valuable culture of the Maasai people. Although much needs to be accomplished, I am grateful for all that has been done to advance the vision of the Osiligi (Hope) Foundation.