Victor Crentsil, Youth Leadersip Grant Recipient
Victor Crentsil, 2009-2010 Grant Recipient and 2010-2011 Matching Grant Recipient
Glenelg Country School
Update
In 2010, the Help to Orphans project has gotten closer to reaching its goal by fundraising. H2O has raised over $3,900 through the sale of water and water bottles and generous donations from FFC and the Church of the Resurrection in Ellicott City, MD. H2O is currently in conversation with two organizations with experience in water projects and Haitian orphanages to identify a receiving orphanage and with this matching grant, H2O plans to begin construction of the water system in Summer 2011.
"Help to Orphans (H2O)"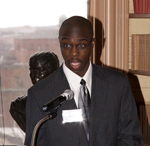 Victor Cyril Crentsil was born in Chicago, Illinois and raised in Maryland with his sister, Eliana, and brother, Jasson. In Maryland, Victor attended a Catholic school, where he learned the importance of religion in ones life and various means of how to serve the community. After his Catholic middle school education, Victor went to high school at Glenelg Country School, where he is currently a tenth grader. Victor is a student council representative for his grade and the Primary School Ambassador of the Community Service Club. He also serves as the Vice-President of the Common Ground Club, which is a club that promotes every form of diversity from religious to racial, in his school. In the near future, Victor hopes to help those who are in need of clean water, especially orphans.
Project Summary
Clean water is a scarce social commodity in Haiti, and with the increased number of orphans after the earthquake, the need for adequate water will be greater in orphanages. To address this social need, I have initiated the Help to Orphans (H2O) project through which I will construct a water system at a Haitian orphanage.
Compassion, defined by the collegiate dictionary as "sympathetic consciousness of others' distress together with a desire to alleviate it," is an integral part of H2O's mission.  Limitations on clean water have the potential to add to the distress of the loss of family suffered by orphans. Through provision of a need as basic as clean water, H2O will show the orphans our awareness of a source of distress. By providing a basic need without expectation of a reward, H2O will demonstrate an unconditional desire to alleviate the distress of the orphans. Hence, H2O's target of orphans – a group among the most vulnerable in any society – is evidence of its compassionate focus.
Reflection
The ultimate aim of compassion in religion is the positive transformation of ones life. Through the Judaic use of equality, Christian's view of helping the helpless, and Islam's merciful views, I can conclude that all of the Abrahamic faiths are "authentic."