Laila Handoo, Youth Leadership Grant Recipient
Laila Handoo, 2008-2009 Grant Recipient
Glenelg Country School, Maryland
Care for the Mentally Ill in Kashmir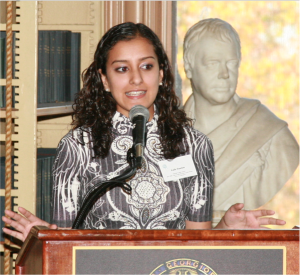 Laila Handoo is a junior at Glenelg Country School who loves to play tennis and to help the community. She enjoys working with senior citizens, especially those who suffer from Alzheimer's and dementia, whom she supports by hosting an annual fair. She intends to study and to pursue a career in the area of neuroscience. She is currently raising funds for the Adam Hingora Primary School in Karachi, Pakistan to help improve the quality of education, especially in the tribal areas. She plays varsity tennis and is a member of the National Honor Society.
Project Summary
Kashmiri women and children are shunned by society due to mental illnesses. As a result, they are faced with a life of hopelessness and depression. I seek to correct this injustice and help them attain the proper treatment they need. Currently, due to war in Kashmir, mental illnesses have increased from 30% to 70%.
I plan on supporting a medical facility where a counselor and I will work with women and girls that are victims of trauma, body mutilation, depression, anxiety, and stress. Additionally, we plan on visiting schools informing children and teachers about symptoms of mental illnesses. People in Kashmir avoid going to mental hospitals because society puts them down. Women and children especially don't go because depression leaves a stigma on women resulting in a shunning of them from society. By educating teachers and students to mental illness, I will create an open dialogue between the children and teachers. With the support of a counselor and a doctor, I will work with the school to identify mentally ill children and comfort them from feelings of abnormalcy. In this way, I will be working with the Human Effort for Love and Peace Foundation (H.E.L.P. Foundation) to be able to make a difference in the lives of these Kashmiri people in need.
In summary, my short-term benefits and goals are the following:
This summer at the end of August, I will travel to Srinigar, Kashmir to establish a relationship with teachers and students supported by the HELP Foundation. After first meeting with the HELP Foundation staff to assess Srinigar needs, I will then meet with the counseling staff members, observe their working conditions and assess their workplace needs. Next I will connect with the teachers to help me be introduced to the students with whom I will get to know for nine to ten days. Using "ice breakers" I hope to attract the trust of the students so that I can be seen as a counselor and a friend with whom they can talk. The students with whom I will be working are underprivileged and have lost family members due to war. As a result, they are not doing well economically and emotionally. They are suffering from PTSD, anxiety, and stress. Unfortunately, they are suppressing their true emotions, making it harder for them to be cured. In the last couple days in Srinigar, I will be spending time in the counseling center discussing renovation ideas and counseling materials with the staff.
My Long term plan is the following:
With the help of a psychiatrist and counselor, the children of my project will receive the support they need year round and will take advantage of the counseling center resources and facility. This support will be especially important when I am not in Kashmir. By establishing a passionate and collaborative team effort with the HELP Foundation, I hope to be very successful in meeting the needs of the teachers and children of Srinigar.
Project Update
Watch this video of the 2009 Youth Leadership Grant recipients, including Laila!