Diana Jeang, Youth Leadership Grant Recipient
Diana Jeang, 2008-2009 Grant Recipient
Update, September 2016:
Diana is in the second year of medical school at Emory University and will be taking the first step in her boards in January before starting rotations in February.
She worked for a year in refugee resettlement in 2014-2015. Since starting school at Emory, she has stayed involved in the refugee community in Atlanta.
A group of Emory medical students planned and hosted a Refugee Health Week recently to introduce new medical students to refugee initiatives, including those at the Clarkston Community Health Center and refugee resettlement agencies in the Atlanta area.
"Clarkston is a special place that is closer to Emory than many of us realize," said Diana. "The Emory Refugee Medical Alliance (ERMA), which we founded about a year ago, wanted to highlight to our student body how valuable it is to learn from the refugee community around us as well as provide an accessible means to do that."
Green Trading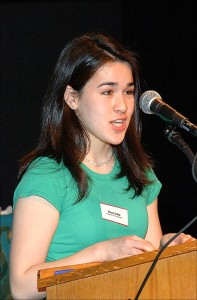 Diana Jeang is a senior in the Communication Arts Program at Montgomery Blair High School in Silver Spring, Maryland. Diana speaks fluent French and is the president of the French Honors Society at Blair. She has performed in various musical theater productions both inside and outside of school and is a member of her high school swim team as well as RMSC. Outside of school, Diana also studies voice and piano. Diana has spent the past two summers interning in biomedical research at the National Institutes of Health.  She was awarded first place in the 2008-2009 Children of Abraham Peace Essay Contest.
Click here to view a write-up about Diana's project in her school newspaper.
Project Summary
Green Trading is a student-run high school-based program inspired by the system of carbon trading.  The goal of Green Trading is both to educate and to encourage action.  Before winter break 2009, students at Montgomery Blair High School in Silver Spring, Maryland can sign up to participate and fill out a form that tells where they plan to travel and by what means.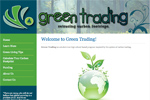 Through Green Trading, student volunteers use information from the Green Trading website to calculate the carbon emissions of each student, and the number of trees that would be needed to plant for sequestering this carbon output.   Students are then asked to contribute a dollar-for-tree equivalent which is donated to the Arbor Day Foundation, an organization that plants one tree in an American national forest for every dollar it receives in donations.  Students who sign up to participate in this program and who neutralize their carbon output will be entered into a raffle to win prizes.  Over the summer and during the school year, Green Trading works to educate others on the individual's effect on the environment in everyday activities.  On the Green Trading website, people can learn more about carbon pollution, find tips on how to reduce their negative impact on the environment and calculate their carbon footprint.
I am also planning to invite a guest speaker to come to our school and have an assembly in the weeks before I launch the project and have people start signing up to participate.   This will help raise awareness in my school (Blair is huge).  I have spoken to teachers and students at my school who seem enthusiastic about the project. I will invite a guest speaker that is knowledgeable about carbon pollution and who can engage the students.  I am thinking about contacting the Chesapeake Bay Foundation, but I also got a recommendation from a friend for actor Ed Begley who spoke at the Delaware Great Green Expo via Skype instead of traveling there to reduce his carbon footprint.
Two of my friends from school and I worked to design the website for my micro-grant project. The website's address is www.greentradingnow.com.  The website provides educational information about carbon pollution and responsible stewardship of the environment on this site.  The website will serve as an important fundraising tool when I go to ask companies for donations.  I will be posting the names of all of the sponsors on this site and give an overview of my project.  This will be another way of getting the word out.  I want to have a carbon calculator on the website and maybe there could be a way for people to sign up to participate and send in donations online.  This could be a great way of expanding the project beyond Blair.
Besides asking companies to donate to our program, I also had the idea of doing fundraising sales or a fun-run to raise money.