Essay Contest 2008 – 2009
"The Environmental Role of Peace within the Three Faiths"
The contest was launched on November 16, 2008, at a Kick-Off Event held at Georgetown University. The theme for this year was – "The Environmental role of peace within the three faiths" – scholars and clergy addressed the topic and answered students' questions during the kick-off. Read testimonials and feedback from participants.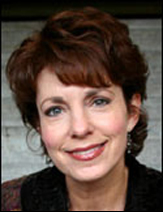 On May 3, 2009, participating essayists were honored at the Children of Abraham Awards Ceremony at the Riggs Library at Georgetown University. Roberta Baskin (right), award-winning Investigative Reporter, delivered the keynote address, highlighting lessons learned in the course of her long career fighting injustice and corruption. Before awards were presented, essayists spoke of ways they've grown as a result of their participation in the contest.
Also during the Award Ceremony, Youth Leadership Micro-Grants of $1,000, with another $1,000 pledged as a matching grant, were awarded to Aishini Thiyagarajan for the development of an environmental awareness project entitled "Morning D.E.W.;" to Andrew Franklin, for the Baltimore Station rooftop greenhouse and garden project; to Diana Jeang, in creating a student-run high school-based program, "Green Trading," which provides educational information about carbon pollution; to Laila Handoo, for her work with the H.E.L.P. Foundation in Kashmir, offering counseling and support to women and children that are victims of trauma; and to Krzysztof Franaszek, for his high-school student based, non-profit charitable organization, Operation Fly, combating homelessness and hunger.
David Weeks of Glenelg Country School in Howard County, Maryland, was presented the Third Annual Teacher's Award for Peace Advocacy. A candlelight ceremony and reception followed.
Watch a video from the awards ceremony

See photos from the awards ceremony

Download the Awards Ceremony program
---
The 2008-2009 Children of Abraham Peace Essay Contest question read:
Part 1: What can we learn from the values taught by the Abrahamic religions—Judaism, Christianity, and Islam—to be responsible stewards of the environment?
Part 2: Propose a practical teen-based environmental stewardship project. Show how the teachings you described in part I inspired the project. (A project could be advocacy, conservation, engineering, education, religious and "other." State whether the focus is on homes, a house of worship, a school, or a community).
---
Our Award Winners were:
First Place – Diana Jeang (Montgomery Blair High School)
"Keepers of God's Earth"
Second Place – Aishini Thiyagarajan (Winston Churchill High school)
"Save Today For Tomorrow"
Third Place – Ezra Wexler (Montgomery Blair High School)
"Abrahamic Team Up: Save the Planet's Water"
Fourth Place – Laila Kadir Handoo (Glenelg Country School)
"The Divine Mandate of Environmental Stewardship"
Fourth Place – Gemma d'Eustachio (Montgomery Blair High School)
"Protecting and Cherishing the Environment"
Fourth Place – Krysztof Franaszek (Thomas Wootton High School)
"A Green Philosophy"
Fourth Place – Muaz Sa'ad Rahman (West Springfield High School)
"The Hope for a Better World"
Honorable Mention – Noha Sherif (Islamic Saudi Academy)
"Religious Engagement With the Environment: Micro-Investment for Macro-Influence"
Honorable Mention – Andrew Franklin (Glenelg Country School)
"A Sacred Trust"
Honorable Mention – Anthony Rousak (Sussex Technical High School)
"How the Values of Environmental Stewardship from the Abrahamic Religions can be Demonstrated through a Community Garden"
Honorable Mention – Thu Nguyen (Montgomery Blair High School)
"Abrahamic Religions: From Ignorance to Action"
Our On-Line Mentors were:
Rabbi A. Nathan Abramowitz, Faculty, Theology Department, Georgetown University
Laith Al-Qasem, Chief Executive Officer of Arabian Business Consultants for Development
Mark Braverman, Ph.D., Clinical psychologist and Organizational consultant
Susan Bilek, Philosophy Teacher, Washington DC
Mohamad A. Chakaki,DC Green Muslims
John Deken, pursuing a Ph.D. in history at the University of Missouri
Allison Fisher, Program Director of Greater Washington Interfaith Power and Light
Kenneth E. McNeil, Senior Partner, Susman Godfrey LLP
June Murray-Crawford, High School Teacher, Hudson, Massachusetts
Professor Sulayman S. Nyang, Professor of African Studies, Howard University
Muhammad Shafi, Ph.D., CEO, Chairman of the Board of Trustees, Dar al Islam
Our Essay Judges were:
Andrew R. Ammerman, Board of Trustees, Georgeton University
Susan Bilek, Philosophy Teacher, Washington DC
Mohamad A. Chakaki, DC Green Muslims
Allison Fisher, Program Director, Greater Washington Interfaith Power and Light
Luby Ismail, Founder, Connecting Cultures, Silver Spring, Maryland
Alexander Kronemer, Film Producer and Co-Founder, Unity Productions Foundation
Stacy Ricotta, Educational Advisor, Houston, Texas