Melissa Mergner, Youth Leadership Grant Recipient
Melissa Mergner, 2006-2007 Grant Recipient and 2007-2008 Matching Grant Recipient
Grant Recipient Update, September 2016: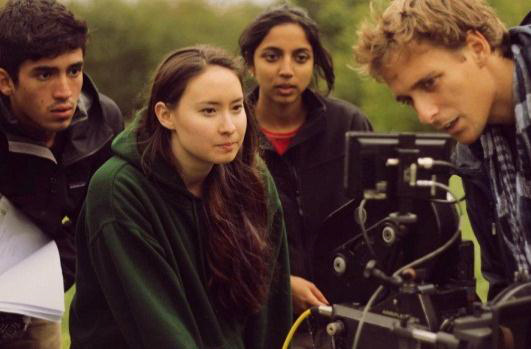 Melissa is a Martin Luther King Jr. scholar at New York University, where she attended the Tisch School of Film & Television. Currently, she is working on a documentary paralleling her search for identity as a child of mixed heritage with that of her grandfather, who emigrated to the United States from North Korea before the Korean War. The piece will be filmed in both the United States and Korea, with plans for completion in 2016.
Melissa also produced a documentary film for FFC's Speaking Truth project.
"I am very grateful to the Fund for the Future of our Children for the micro-grants I received to support my film projects about Korean reunification and child trafficking in India," Melissa said. "I have been making documentaries since I was 12, but the process of filmmaking doesn't seem to get easier. The costs of the equipment and supplies, as well as travel, can be overwhelming. The support I received from the FFC not only helped me to pay for these costs, but also gave me confidence to take on more projects.
"Having an organization like the FFC endorse my work has made me think of myself as a real professional and has encouraged me to stick to an artistic vision that many people would think of as too idealistic. The support I've received from FFC has made idealism seem like realism. I will always be indebted to the organization for that belief."
Child Trafficking and Korean Reunification Films
Melissa Mergner is a senior at the Communication Arts Program at Montgomery Blair High School in Silver Spring, Maryland, and also attends the Visual Arts Center magnet program at Albert Einstein High School in Kensington, Maryland. She has written and directed several short documentaries, including: "Legacy of Peace" about Japan's atomic bomb victims, "Woody Guthrie: Voice of the Common Man" about the legendary singer-songwriter, "Invisible and Invaluable" about the plight of farm workers, "The President as Commander-in-Chief" about the importance of foreign affairs in the presidential election, "Speaking Truth to Power" about farm labor activist Baldemar Velasquez, and "Forgotten War, Unforgettable Aftermath" about the Korean War.
Her films have won awards or have been shown at over 50 film festivals across the U.S. She also produced a video for Velasquez's song "Song for Urbano," about the tragic death of a migrant farm worker in North Carolina. She received a leadership grant from FFC in 2006-2007 to make a film about her Korean grandfather and the issue of reunification in Korea, to be completed in 2009.
Melissa also traveled to India in the summer of 2008 to produce a film about child trafficking in India. Watch the film Melissa produced with Priya Agarwal-Harding about PRAYAS: