Emerging Writers
Teens: Seen and Heard
The Poet Laureate Poetry Workshop with Grace Cavalieri
Sponsored by the Fund for the Future of our Children in collaboration with the Maryland State Arts Council



Grace Cavalieri, Poet Laureate of Maryland, is holding monthly poetry workshops in MD starting fall of 2019 for young people "who have something to say and would like to learn how to say it".
This is a pilot program of 8 one-day workshops throughout Maryland that allows teenagers to get in touch with their inner core/heart, get in touch with who they are, and tell their stories in a safe place. It's now become apparent that the need to reach teens is paramount. One small way is to go where we can reach them. We just call it "Poetry."
Grace Cavalieri was appointed Maryland Poet Laureate on November 7, 2018, by Governor Larry Hogan. She is the author of 20 books and chapbooks of poetry, the latest are Other Voices, Other Lives (ASP, 2017;) and Life Upon The Wicked Stage: A Memoir (NAP/Scarith, 2015.) She's also written texts and lyrics performed for opera, television, and film and has had 26 plays produced on American stages. Grace teaches poetry workshops throughout the country at numerous colleges. She produced and hosted "The Poet and the Poem," weekly, on WPFW-FM (1977-1997) presenting more than 2,000 poets to the nation. She now presents this series to public radio from the Library of Congress
via NPR satellite and Pacifica Radio, celebrating 42 years on air in 2019.
Grace has received the 2013 George Garrett Award, the Pen-Fiction Award, the Allen Ginsberg Poetry Award, The Corporation for Public Broadcasting Silver Medal, and awards from the National Commission on Working Women, the WV Commission on Women, the American Association of University Women, The DC Poet Laureate Award from Dolores Kendrick, the Paterson Lifetime Achievement Award, among others. She won a Paterson Excellence Award for What I Would do for Love, and The Bordighera Poetry Prize for Water on the Sun. She received the inaugural Columbia Merit Award from the Folger Shakespeare Library for "significant contributions to poetry."
https://www.msac.org/maryland-poet-laureate
Below is the basic template used for workshops
Meditation begins the practice and then a discussion of the four basic necessary elements for a good poem, or work of art:
— thinking 
—feeling
—senses (sensual) 
—intuition
The meaning of each of the four basic elements are discussed. 
The writing session brings the students within themselves by going through the floors of their lives in an elevator. Each floor represents a different year. This takes personal meditation and silence to obtain a story from one of the "Floors".
The students leave the area to be alone to write what they "saw" on their "floor." They return in 15 minutes having written from margin to margin just as they "saw" it. Writers then share what they "saw" on their "floor" with the group. Young writers stay with the narrative and just discuss how it becomes a poem.
The students also write a group sonnet and then use an oral tradition to speak in aloud as a "Crowd" poem.  (Horspiel tradition) (as heard on Podcast) 
Students also finish the sentences:  I wish    I wonder    I dream    I am afraid   etc. (as heard on Podcast)
The writers are given 10 words that have no connection, and they connect them into poems and stories (Samples on Podcast.)
Salisbury MD, Sept 21, 2019: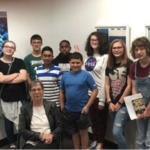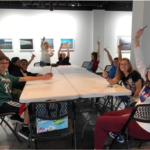 The first workshop was held on September 21, 2019 in Salisbury, Maryland.  Eight Middle school students attended the inaugural Poet Laureate workshop. They were 8th graders, age 13. Thirteen is the youngest age set for participation.  
Every person participated and they loved the "photo ops" and "recordings'" because Teens want to be SEEN and HEARD!
Teens: Seen and Heard
---
Where I Come From: Emerging Writers
The Poet and the Poem mini-series (2016-2017)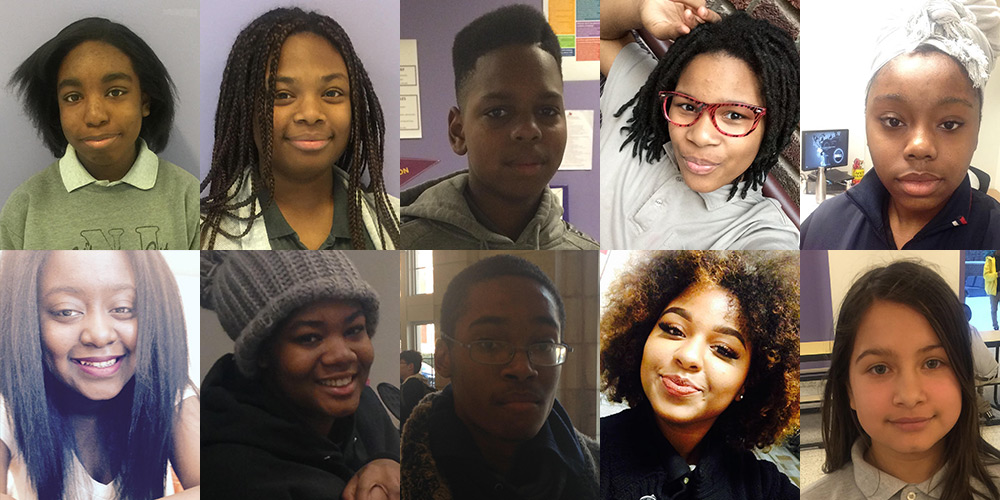 Our stories connect us, and yet so few know how to tell their personal narratives. Sponsored by FFC, "Where I Come From: Emerging Writers" focuses on the power of the written word to bridge cultures and identities, using poetry as a means of expressing thought from the heart to connect with others.
Each Emerging Writers radio show is a two-day project that introduces students to the gift of self-expression. The first day begins with a writing workshop held in schools. Students learn how to tell their personal narratives through poetry, then members of the writing group are chosen to represent their school. In the second session, those students record their poems for an episode of the "Poet and the Poem" on public radio.
"The Poet and the Poem: Emerging Voices" is a mini-series broadcast hosted by award-winning poet Grace Cavalieri. In past episodes, Cavalieri has interviewed poets such as Margaret Atwood, Allen Ginsberg and Terrance Hayes, as well as national Poets Laureate including Rita Dove and Billy Collins. In Emerging Writers episodes, Cavalieri talks with the young workshop participants, discussing their creative processes and the life experiences that inform their poems.
While the main goal of Emerging Writers is the process, not the broadcast, students enjoy sharing their poems. Students benefit when a light is shone on their work, allowing the warmth of public appreciation to guide them along their paths. At the same time, the students' stories and poems can inspire others who listen to the broadcasts.
Once a show has been edited by a professional sound engineer, the program link will be available on this page to any organization or media outlet for mass distribution. When all six 30-minute episodes are complete, the series will be distributed through the Pacifica Network to all radio stations and community stations that wish to air it, free of charge.
The series will also be archived at the George Washington University Melvin Gelman Library's "Special Collections," the University of Maryland's Library of American Broadcasting, the Library of Congress archives and the Pacifica archives.
Schools in the Washington, DC metropolitan area that wish to participate in the workshops can email their request to ffc@futureofchildren.net.
LEARN MORE:

Poet and the Poem
---
Episode: Washington International Academy in Alexandria, Virginia
April 27, 2016
7th Grade
Listen to Audio Podcast (22:06 minutes)
Four seventh grade writers from the Washington International Academy in Alexandria, Virginia, voice their craft. The program's featured writers are Shatha Awad, Noor Mohammed, Zayneb Rachidi, and Zayna Venable. The group poem ending the program is a result of ten writers offering one line of each their poems. The ten writers include eighth graders also practicing the art of poetry.
8th Grade
Listen to Audio Podcast (23:04 minutes)
Six eighth grade writers from the Washington International Academy in Alexandria, Virginia, voice their craft. The program's featured writers are Nooran Elmoustafa, Sumaiyah Fatima, Sumayya Gumus, Areebah Jahin, Aamenah Kabbara, and Hana Rahman. The group poem ending the program is a result of ten writers offering one line of each their poems. The ten writers include seventh graders also practicing the art of poetry.
---
Episode: Cardozo Education Campus
December 7, 2015
Listen to Audio Podcast (27:52 minutes)
The first episode of "Where I Come From: Emerging Writers" features five young writers from the Cardozo Education Campus in Washington, DC: Jaiho Masam (age 15); Nicholas Cary (17); Iyana Morgan (15); Kaitlyn Murphy (15); and Carina Urbina (11). Each student reads his or her poem, and speaks about the life experiences that led to that act of expression.
The recording concludes with a group poem, composed of single lines of poetry written by ten different Cardozo Education Campus poetry workshop participants. Those ten writers are Angelica Edwards, Jerome Clarke, Carina Urbina, Brianna Devine, Dechauna Johnson, Kaitlyn Murphy, Adaiah Brown, Iyana Morgan, Nicholas Cary and Jaiho Masam.
The writing workshop for this episode was held at Cardozo Education Campus on Dec. 7, 2015. The recording was completed at the Library of Congress the next week, Dec. 14.
Cardozo Education Campus was selected with the help of the nonprofit Communities In Schools. Communities In Schools is a nation-wide organization that helps bring community resources into public schools, where they are accessible, coordinated and accountable. These resources help facilitate healthy relationships between students and adults, which in turn facilitate student success.
LEARN MORE: