Teacher's Award for Peace Advocacy
Teacher's Award for Peace Advocacy
In recognition of the influence of dedicated teachers on the hearts and minds of their students, FFC has sought to honor and encourage the work they do. These men and women constitute the front line in the effort to guide our young people into the maturity of thought and character required by society's leaders. The annual Teacher's Award for Peace Advocacy includes a $2,000 cash prize.
---
The 2007 Teacher's Award for Peace Advocacy was presented to:
Lansing Freeman

DC native Lansing Freeman has been teaching at Montgomery Blair HS for seven years. Currently teaching Advanced Placement National, State, and Local Government, Lansing has also taught classes about the Middle East, US History, and Peace Studies. At Blair he is also the faculty sponsor of the Model UN chapter and the Young Democrats.
He earned a bachelor's degree in Finance from the University of Delaware and received an MA in the Art of Teaching from Johns Hopkins University.
Prior to teaching, Lansing worked for sports marketing and management firms IMG and RHB, representing athletes and their marketing interests.
Outside of school, Lansing runs the Hoya tennis camp at Georgetown University, works in Athletic Communications for American University, and is a member of the Press Relations team for pro soccer team DC United.
---
The 2008 Teacher's Award for Peace Advocacy was presented to:
June Murray-Crawford
June Murray-Crawford has been a social studies teacher for 18 years. A graduate of Villanova University (BA) and Simmons College (MA), June has taught in a variety of locations from Boston, Massachusetts, to Cali, Colombia. For the last eleven years she has taught World Cultures at Hudson High School in Hudson, MA. World Cultures is an elective Social Studies class for 10th, 11th, and 12th graders. The World Cultures courses were created when June's students requested that she design a class that would engage them in study about the world beyond their Eurocentric World History curriculum.
Travel has been a formative educational experience for June. As a child she spent time in Western Europe and since then has made it a priority to explore the world. She has since travelled to: El Salvador to work with educators at Escuela Americana; China, where in addition to hiking the Great Wall she taught 3 year olds at the Xian Children's Palace how to sing Head, Shoulders, Knees and Toes; Benin and Ghana, fulfilling a childhood dream of exploring a part of Africa and Russia, where as a child growing up in New York, she could have never imagined standing in Red Square. June's travels inform her practice, she brings each new destination into her classroom for her students to experience.
June has been the faculty advisor for the GSA, led student trips to the Peruvian Amazon, where her students delivered school and medical supplies to rural villages, designed curriculum with Cultural Survival, a non-profit whose objective is to promote the voices of the indigenous communities of the world, and is serving her second term as President of the Hudson Education Association.
---
The 2009 Teacher's Award for Peace Advocacy was presented to:
David Weeks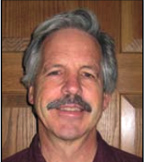 David Weeks holds a B.A. in Social Relations from Harvard College an M.Ed. in Language Development and an M.A.in Guidance & Counseling from Loyola College in Baltimore. He has pursued postgraduate study in Waldorf Education from Mercy College of Detroit and in Social Development from Emerson College in Sussex, UK. Mr. Weeks has also participated in independent study to support a doctoral program in contemplative education, curriculum design, and executive functioning from Union College, Cincinnati, OH.
David Weeks has thirty four years' experience in elementary, middle, high school, and adult education. Presently he is in the middle of his 26th year of working at the Glenelg Country School in Howard County, Maryland. In 2000 he took a sabbatical leave from his teaching to travel the Silk Road from Beijing to Istanbul. He enjoys learning about different cultures and has traveled extensively in the Himalayan and Southeast regions of Asia.
After the 2004 tsunami Mr. Weeks and his Glenelg Country School supported the Ban Nam Khem community in Thailand for three years. David Weeks specializes in Eastern Studies as a teacher with courses in Islamic Culture, Asian Studies and Modern China. He also has pursued his passions for service and community building by directing the Community Service and Civic Leadership Programs at the Glenelg Country School.
Additionally he founded and has directed the Maryland Youth Partners in Change, a three year middle school leadership and service-learning program since 2003. His service to his students and the community has recently been recognized with his having received the 2009 Howard County Martin Luther King Jr. Holiday Commission Award.
David Weeks has three sons in his twenty four year marriage to his French Canadian wife, Marie. His personal interests include community service-learning, community building, playing the alto saxophone, ice hockey, gardening, and travel.