FFC National Youth Awards
National Youth Awards, April / May 1996
Shawn Adkinson
"I'm always trying to figure out how to help my family be better off without struggling to do everything they do," says Shawn Adkinson, a member of the Children's Trust Neighborhood Initiative (CTNI) and the force behind CTNI's performing and youth advocacy troupe, "Pounding for Peace". Having overcome his own struggles growing up in an environment where drugs, crime and poverty were the bedrock of daily life, Shawn decided early on not to get involved in the street life and to do what he could do to help others. At Woodson High School, he was the leader of the Alpha Omega fraternity, and lead many community service efforts, including Christmas projects to give toys to children, feeding homeless families, and providing "real" meals to children in school. Shawn is a member of the "Brothers in Harmony" singing group, whose mission is to bring more powerful and truthful music to young people that counters the current messages promoting drugs and violence.
A multi-talented artist who uses his talents to help others, Shawn has volunteered with CTNI, where he and other youths formed the "Pounding for Peace" troupe. The troupe has performed at local high schools and for television-produced public service announcements urging young people to "unchain their brains from the lure of drugs, gangs and money."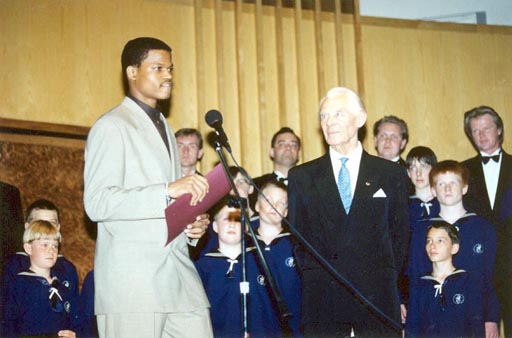 ---
Manuel Alcala
Manuel Alcala has been a member of the Grand Prairie Boys & Girls Club since it opened. Manuel is currently served as the Youth of the Year for the Boys & Girls Clubs of Greater Dallas, Inc. One of the reasons that Manuel was selected Youth of the Year is his willingness to help and be a role model for the younger members in the Club. Manuel constantly helps young people with their homework and tutors younger members in computer class when he has time. Manuel is from a single parent home and helps out him mother around the house, along with helping his little sister. Manuel is President of the Viking Keystone Club (service club) where one of this year's projects is to start a Midget club (service club for nine- and ten-year-old children). Manuel's goal in life is to graduate from college and serve the community.