Faith in Action Award
Faith in Action Award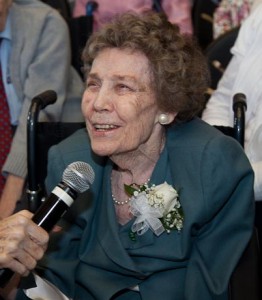 The first Faith in Action Award was presented to Mary Campbell Cosby, co-founder of the social justice project-based Church of the Saviour, active in DC since the late 1940s.
Mary Cosby, now 89, grew up in Lynchburg, Virginia, daughter of a Baptist minister. At age 9 she met Gordon Cosby and they enjoyed a childhood  friendship. As young people they helped with children's ministries of their church.
Mary, along with Gordon and her sister, dreamed of belonging to a church that not only believed in Jesus, but lived what Jesus taught. As young people they imagined starting a different kind of church that would invite in all people who wanted to show their love for God by loving and serving people. After graduating from Randolph Women's College in Lynchburg, she married Gordon, who then served in World War II as a chaplain in the 101st Airborne division.
Following the war, their shared dream of starting a church would send them on an inward journey with God and one another and an outward journey to help God mend broken places in the world In 1947, together with 7 other people, Mary and Gordon launched The Church of the Saviour.Very quickly, the church became widely known for its commitment of trying to live what Jesus taught.
Mary became a well-loved speaker across the country as well as a teacher for the Washington, DC church. She has a special eye for "ambiance" and has always felt that beauty is especially close to God's heart. One of the church's first missions is the Potter's House coffeehouse in Adams Morgan, where the art gallery is named for Mary.
View the video about her life and work:
See the award presentation by Marian Wright Edelman and heart-felt thanks from those who have been touched by Ms. Cosby's life and work: